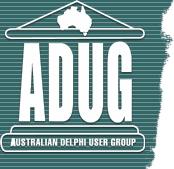 Australian Delphi Users Group Symposium 2012
Melbourne: March 22nd, 2012
Canberra: March 23rd, 2012
www.adug.org.au
Steema is glad to support one more year with donation of licenses of teeChart charting components aimed to Delphi and C++ Builder developers the ADUG Symposium 2012.
This year the event is in Melbourne (March, 22nd) and in Canberra (March, 23rd).
The speakers this year are Bruno Fierens of TMS Software, he will be presenting at the 2012 ADUG Symposium Bruno's topic is Custom FireMonkey component development. The ever popular Malcolm Groves will smile upon you all and describe 'How to Build Distributed Systems That Don't Suck'. Glenn Stephens, an oustanding Delphi developer, author and teacher, will be joining them for 'The best of REST compressed' a client server stateless system based on HTTP.
For more details, registration and pricing review the ADUG Autumn Symposium 2012 page.