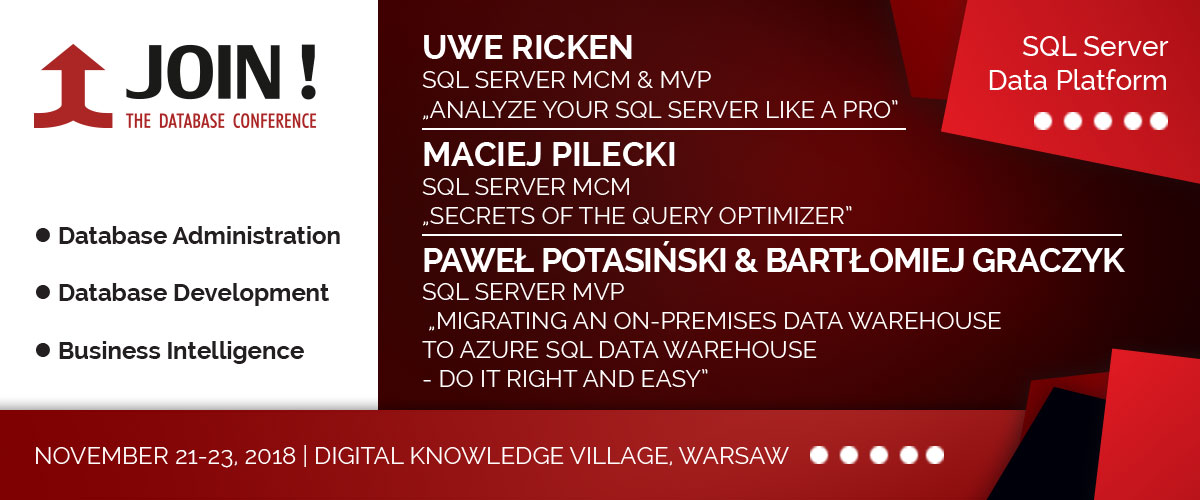 Microsoft SQL Server Data Platform Specialists will meet in Warsaw again. Third edition of JOIN! – The Database Conference will be held in Warsaw on 21-23 November.
About the Conference
JOIN! – The Database Conference is a conference dedicated to the Microsoft SQL Server data platform. The event is addressed mainly to programmers, database administrators, software engineers, data analysts, architects and designers of database systems.
As in previous years, during the JOIN! Conference, full-day workshops and two days of lectures are planned. During the conference part, the following issues will be discussed:
Database administration
Database programming
Business Intelligence

Verified Experts
The substantive quality of the event will traditionally be ensured by experts with many years of experience in the industry. In our Digital Knowledge Village you will meet, for example, Uwe Ricken, who during the workshop sessions will be responsible for presenting the following: "Analyze Your SQL Server Like a Pro". Apart from him, also Maciej Pilecki will appear – the only person in Poland holding the title of Microsoft Certified Master of SQL Server. The expert will lead "Secrets of the Query Optimizer" pre-con. And that's not all! Paweł Potasiński and Bartłomiej Graczyk will also jointly appear and together they will conduct a session titled: "Migrating an on-premises data warehouse to Azure SQL Data. Warehouse – do it right and easy".

The organizers also disclose the speakers that will appear during the conference. It is already known that on the stage will appear, for example, the following:
Margarita Naumova – Data Platform MCM & MVP
Thomas Hütter – Business Administration Expert
Damian Widera – SQL Server MVP & MCT
Chris Adkin – SQL Server Architect
Full schedule of the event and more information can be found at: join-conference.com
The event is organized by DATA MASTER, also responsible for .NET DeveloperDays and Cloud DeveloperDays.