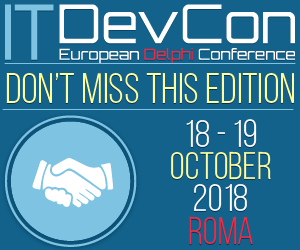 ITDevCon 2018 Edition
Oct 18th & 19th 2018
Roma, Italy
www.itdevcon.it
Steema Software is pleased to support the 9th annual edition of ITDevCon.
The ITDevCon 2018 Edition is being held in Rome on October 18th & 19th and it gives you a great chance to meet leading companies in the IT industry.
You will discover the latest technologies on RAD Studio and you will learn how to reduce complexity using one IDE, one language and one framework.
Don't miss the opportunity to share your contacts or give your resume to the companies that use Delphi.
For more information about topics, agenda and registration, please visit www.itdevcon.it