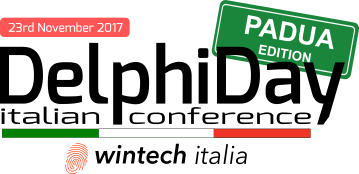 Italian Delphi Day Padua Edition
November 23, 2017
Four Points by Sheraton Padova
www.delphiday.it
Steema is glad to participate as Delphi sponsor of the Italian Delphi Day 2017 Padua Edition.
The Delphi Day Padua Edition is a free half day conference that brings together more than 100 Italian Delphi developers to discuss, propose strategies and share best practices.
The main topics of this edition will be: Linux in Delphi, High performance 3D in Delphi and Delphi REST + Sencha ExtJS= Web.
During the morning, before the conference starts, two parallel seminars on MVVM Architecture and Microscervices.
Get your ticket on Eventbrite website.