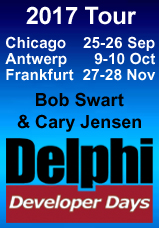 Delphi Developer Days 2017
Special Workshop Focusing on Database Development
Featuring Cary Jensen & Bob Swart
Chicago, USA: September 25-26, 2017
Antwerp, Belgium: October 9-10, 2017
Frankfurt, Germany: November 27-28, 2017
www.DelphiDeveloperDays.com
Steema is glad to participate at the Delphi Developer Days 2017 Special Edition Database Workshop.
This two-day workshop, presented by Delphi database experts Cary Jensen and Bob (Dr.Bob) Swart, provides you with an insider's perspective on database development with Delphi. Topics that are covered include connecting to databases using FireDAC, advanced FireDAC configuration, and essential database operations, such as reading and writing data, using indexes, and searching and filtering. Also cover advanced FireDAC techniques, including high-performance operations using Array DML, creating flexible queries using the SQL command preprocessor, and advanced editing using cached updates.
Find out more at www.DelphiDeveloperDays.com