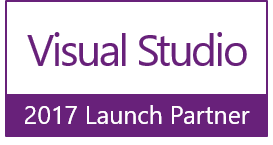 Congratulations to Microsoft on the release of Visual Studio 2017 and Happy Birthday for the 20th anniversary of Visual Studio!
Steema is pleased to confirm that TeeChart for .NET charting library already integrates seamlessly into new Microsoft IDE.
TeeChart for .NET helps to greatly improve developer productivity by including support for Windows Presentation Foundation, Microsoft Silverlight, ASP.NET, Windows Forms, Universal Windows Platform, Windows Phone, Xamarin iOS, Android & Forms, SQL Server Reporting Services and .NET Compact Framework.

Evaluation version may be downloaded from www.steema.com/downloads/net.
TeeChart for .NET version was first launched in 2002, coinciding with Microsoft's Visual Studio.NET and has been continually updated and improved since. Check the build history to view changes and features for each version.

Wishing Microsoft too, many happy wishes for the celebration of the 20th anniversary of Visual Studio!
Take a look at the product pages for more information about TeeChart for .NET and use Steema Support forums to send feedback.