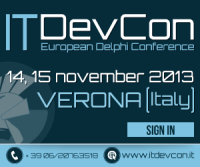 ITDevCon 2013 – The European Delphi Conference
November 14-15, 2013
Verona, Italy
www.itdevcon.it
Steema Software is pleased to support with TeeChart VCL charting components the fifth annual edition of ITDevCon which will be held on the 14 and 15 of November in Verona, Italy.
ITDevCon 2013 is a two-day Conference, focused on the latest Delphi technologies, structured in 3 parallel sessions showing live demos and best practices. You can choose your favorite topics, plan your agenda and learn how to get the best out of the leading RAD IDE Delphi using one language and one framework to deploy multi-device, true native application. From a single codebase to Windows, Mac OSX, iOS and Android.
Don't miss this opportunity to expand your IT skills and your professional network!
More information and register, follow this link www.itdevcon.it.