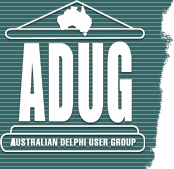 Australian Delphi Users Group Symposium 2013
Melbourne: March 21st, 2013
Sydney: March 22nd, 2013
www.adug.org.au
Steema is pleased to participate one more year with the teeChart Charting library aimed to Embarcadero Delphi, C++ Builder at the ADUG Symposium 2013.
This year the event is in Melbourne (March, 21st) and Sydney (March, 22nd)
The speakers are Mason Wheeler showing Delphi as a web server and more. Alister Christie the creator numerous video tutorials and learndelphi.tv showing DataSnap with Android. Malcolm Groves is always a welcome participant and will be here at this year's symposium. Other local talent this year, from Western Australia, is Scott Hollows. Scott will show how to develop for Apple hardware.
For more details, schedule, register and pricing visit the ADUG Autumn Symposium 2013 page.