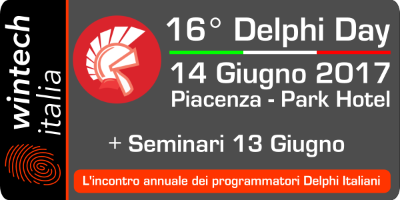 Italian Delphi Day 2017
June 13-14, 2017
Park Hotel Piacenza, Italy
www.delphiday.it
Steema is glad to participate as Delphi sponsor of the Italian Delphi Day 2017 event.
The Delphi Day, XVI edition, brought by Wintech Italia, is dedicated to the Italian Delphi community and includes two days of conferences and meetings.
A great opportunity to examine technical topics, to meet other developers (about a hundred in 2016 edition) and foreign delphi experts!
For more details and to subscribe, please visit the www.delphiday.it.