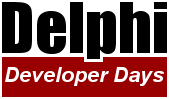 Delphi Developer Days 2014
Washington, USA: May 5-6, 2014
Chicago, USA: May 8-9, 2014
Frankfurt, Germany: May 26-27, 2014
Amsterdam, The Netherlands: June 12-13, 2014
London, UK: June 18-19, 2014
www.DelphiDeveloperDays.com
Steema is glad to participate at the upcoming Delphi Developer Days 2014 tour.
Delphi Developer Days 2014 is a five-city Delphi tour in the United States, Europe, and the United Kingdom. Each Delphi Developer Days event includes two days of Delphi sessions where Cary Jensen and Bob Swart present both joint sessions, in which they present in-depth topics together, as well as simultaneous tracks, where they break out into separate rooms to present diverse topics. All attendees will receive the Delphi Developer Days 2014 course book, containing more than 250 pages of material presented during Delphi Developer Days 2014.
Check out all the information about the event at
Delphi Developer Days
website.